Once upon a time, a piping hot bowl of fish head noodles was traditionally made with a broth soaked in clear or evaporated milk. Today, you can find fish head noodles in many different flavors, such as tom yam and curry soup base.
Mr Fish
Variety choice of seafood noodles menu in Mr Fish. Variety choice of soup base includes Milky Soup, Superior Soup, Curry Laksa Soup and Tom Yam Soup. There is also a daily value meal and kiddo meals set with few choices at a cheaper price. You also can make your own seafood noodles with different ingredients and soup bases, up to 23 kinds of ingredients which are seafood, vegetables, dumplings, tofu, eggs, Fish Heads, etc. Each ingredient is absolutely fresh.
Mr Fish is famous for its homemade traditional Teochew-style fish head noodle. Best of all, the broth contains no MSG and is served with the juicy texture of saltwater barramundi or commonly known by the locals as "siakap".
2 branches open in Petaling Jaya
Atria Mall
Address: C36, Concourse Floor, Atria Shopping Gallery, Jalan, Jalan SS 22/33, Damansara Jaya, 47400 Petaling Jaya, Selangor
Opening Hours: 10:30am–9:00pm
1 Utama shopping center
Address: LOT LG 333A, Lower Ground Floor 1 Utama Shopping Centre 1, Bandar Utama, 47800 Petaling Jaya, Selangor
Opening Hours: 10:00am–10:00pm
Moon Kee Fish Head and Seafood Noodles满记
The standout here is the fresh grouper, either boiled or fried. Either way, the fish chunks are delicious with a milky broth or even dipped in a chilli sauce.
Address: 48, Jln 19/3, Seksyen 19, 46400 Petaling Jaya, Selangor
Opening Hours:
9:30am–7:30pm (Monday – Saturday)
9:00am–4:00pm (Sunday)
Soon Soon Pan Mee & Fish Head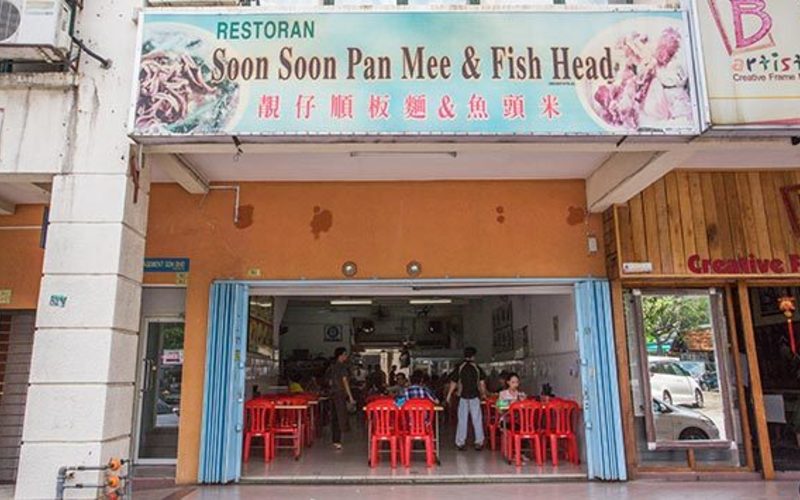 While the restaurant may pride itself on its pan mee selection, their fish head noodles are equally recommended. Besides the usual fish heads and fillets, there are other menu options including bitter gourd, seaweed or water prawns.
Address: 18-1, Jalan PJU 8/5c, Damansara Perdana, 47820 Petaling Jaya, Selangor
Opening Hours: 7:30am–5:00pm
Norway Salmon Fish Head Noodles
True to its name, here you can enjoy fish head noodles made with Norwegian salmon heads or fillets. Alternatively, you can choose a plain fish sauce, fish cakes, prawns or fish tails to match the noodle soup. They have a total of four soup bases: plain, curry, hot and sour or bitter gourd. Go for the original as they use evaporated milk in the fish bone broth which goes well with thick vermicelli and other toppings like pickled vegetables and tomatoes.
Address: G4, Jalan Jambu, Jinjang Selatan, 52000 Kuala Lumpur.
Opening Hours: 8:30am–3:30pm
Restoran Gou Lou
Craving for spicy fish head noodles? Restoran Gou Lou (literally "Tall Guy Restaurant") offers one of their specialties: Tom Yum Noodle Soup, instead of the standard clear or creamy versions. The fiery broth has a searing feel that makes one sweat, and the fried bonito head is just as worth it.
Address: 107G, Jalan Tiong Nam, Chow Kit, 50350 Kuala Lumpur, Wilayah Persekutuan Kuala Lumpur
Opening Hours: 7:00am–2:00pm, Monday close
Kaki Bola Dua
Paramount Garden aka Taman Paramount is a residential area known for several good restaurants. One of them is of course Kaki Bola Dua @ II which serves the signature XO fried fish head noodles. If you choose the milk version, the fish head noodles will taste better as it goes well with the XO soup. Don't forget the fried fish head, which is fragrant and crispy in one bite.
Address: 23, Jalan 20/14, Ss 20, 46300 Petaling Jaya, Selangor
Opening Hours:
8:30am–3:00pm, 6:00–8:30pm (Tuesday-Friday)
8:00am–3:00pm, 6:00–8:30pm (Saturday-Sunday)
B & Best Seafood Noodles Restaurant
The restaurant is quite a spacious Chinese coffee shop (kopitiam) with only one main stall selling fish and seafood noodles for breakfast and lunch. Choose from a wide variety of fresh fish and seafood. The seafood includes prawns, lala, and oysters, and the fish includes pomfret, red snapper, grouper, and fish balls. You can also add fish cakes or deep-fried "fu-chuk". B & Best serves yellow noodles, mee hoon, koay teow, lou shee fun, mee suah or porridge. You can have noodles in kon lou (dry), soup or hot tom yum.
Address: 12, Jalan SS 4c/5, Taman Rasa Sayang, 47301 Petaling Jaya, Selangor
Opening Hours: 7:00am–3:30pm
Teochew seafood noodle house
You are able to customise your noodle bowl by choosing whatever fresh seafood that is available for that day. Special items here includes fresh dragon tiger grouper fillet, homemade fish balls, Yong Tau Foo pieces, pomfret and fish cakes.
Address: 10, Jalan SS 22/21, Damansara Jaya, 47400 Petaling Jaya, Selangor
Opening Hours: 8:00am–3:00pm
Restoran Green View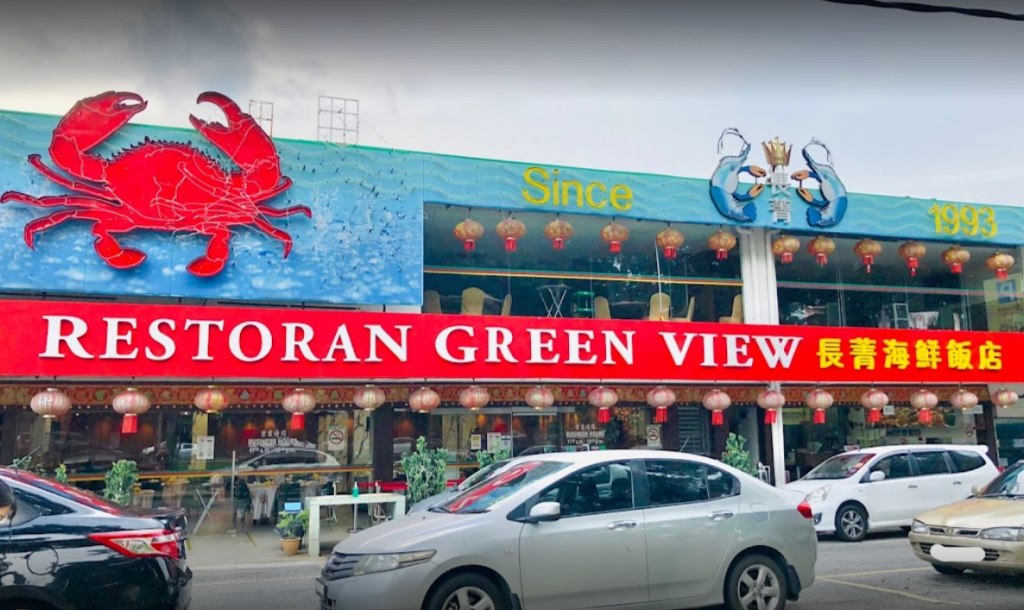 Established since 1993, Restoran Green View Sdn Bhd is a Chinese seafood restaurant in Petaling Jaya that serves the well-known Sang Har Mee. Firmly believing in using high quality ingredients, Green View has been continually elevating its culinary forte over the years.
Address: 8, Jln 19/3, Seksyen 19, 46300 Petaling Jaya, Selangor
Opening Hours: 11:00am–3:00pm, 5:30–10:00pm
Fish & Noodle House 鱼面之家
Fish & Noodle House is one of two popular shops selling fish head noodles in Damansara Kim. This restaurant also serves salmon with its noodles which is quite unique. Aside from fish head and fillet, you can also opt for fish paste and freshwater prawns.
Address: 77, Jalan SS 20/11, Damansara Kim, 47400 Petaling Jaya, Selangor
Opening Hours: 8:00am–4:00pm, Monday close