Petaling Jaya is a bustling city in the Klang Valley region of Malaysia, known for its excellent shopping, dining, and entertainment options. For those looking to purchase a used car in Petaling Jaya, there are several reputable used car dealerships to choose from. Here, we will take a closer look at 10 used car dealers in Petaling Jaya that offer a range of quality used vehicles and excellent customer service.
GD Motorsport Trading @ Seksyen 18
Ever since been established in 2017, GD Motorsport Trading has been the people's selection for a used car dealer. The dealership vows to deliver top quality pre-owned cars with a wide array of certified choices. Such investments are done only under good deals. The team at GD Motorsport Trading would assist the entire loan application process of the client from start to end. Clients would be offered the lowest possible rate in the market for the car of their desire.
Address: Seksyen 18 /6, 14, Jalan 18/16, PETALING JAYA, 46000 Petaling Jaya, Selangor
Hours:
10am – 6pm Monday-Saturday
Sunday closed
Phone: 014-944 3464
Jag's Classic Automobile @ Damansara Perdana
The dealership is a pioneer in PJ to resell such models of used cars. The cars in their care are all nostalgic and come with a set of heart-warming stories. With some preservation, the cars would look elegant and luxurious, as if they just got out from the factory. The team provides the first view of the polished and readied vehicles, sales, maintenance and even, after sales services. The team even offer services such as motor insurance, road tax renewals and Road Transport Department-related affairs. They are ever so friendly and courteous which ensures you a great experience with them. You could even drop by to have a look at the auto-mobiles, and they would even leave you to your viewing undisturbed. Just make sure to let them know beforehand.
Address: 28-1 & 30-1 PJU 8/5B 47820 Petaling Jaya, Selangor, Malaysia
Hours:
9:30am – 6:00pm Monday-Friday
10:00am – 4:00pm Saturday
Sunday closed
Phone: 03-7710 2207
Expat Car Guys @ Pelangi Sentral
The Expat Car Guys is a trustworthy used car dealership, which specializes in catering for the Expatriate Community in both Kuala Lumpur and Selangor. The team consists of polite and resourceful professionals who offer great after sales service, so you could be assured of the warranty of the car. You could be stranded by the side of the road with some glitches and the crew would be there shortly to assist you. However, fret not as the vehicles are restored, polished and well-kept as much as they could have been salvaged. So, you do not have to be concerned of rising issues. The team possesses extensive knowledge of the market and so, is able to buy and sell the cars in a breeze. Transfer of ownership is all taken care of in the comfort of their office. So, it is for sure hassle-free. The pricing of the cars for trade-in is definitely competitive and reasonable. Plus, transfer of payment is done very efficiently and expediently.
Address: PS-G-8 Pelangi Sentral, Persiaran Surian, Pelangi Damansara, 47800 Petaling Jaya, Selangor
Hours: 9am – 6pm, Sunday closed
Phone: 013-358 3589
Auto Arcade Sdn Bhd @ Seksyen 51
Established in 2011, the dealership boasts a broad selection of top rated cars for their customers to choose from. The facility extends over 4 acres of land and stores many renowned brands of cars. Some of them include Toyota, Honda, Subaru, Mercedes, Lexus and Porsche. The consultations are done by well-trained professionals, whom understand your needs well. The after-sales service assures you that you and your car are both in good hands. The pricing of the auto-mobiles are negotiable so, be sure to view and test drive your preferred vehicle before deciding on its value. With the dealership aspiring to present their customers with quality vehicles and services, your needs would be well taken care of. The company has a strong understanding of their customers' expectations and so, delivers their promises accordingly. As mentioned, comprehensive services are of topmost priority at Auto Arcade. With state of the art machines and tools, the dealership provides a return for your investment with remarkable services. Some of their top services include general repair, unit repair, wheel alignment and balancing, free exterior car wash, as well as a twenty-four hour breakdown service. So, if you are keen to get your hands on your favourite Japanese-branded or continental cars, this is where you need to be.
Address: No. 7, Jalan Kilang 51/205, Seksyen 51, 46050 Petaling Jaya, Selangor
Hours:
9am – 6pm Monday – Friday
9am – 1pm Saturday
Sunday closed
Phone: 03-7660 5888
JayaMaju Mesra Sdn Bhd (JMSB) @ Taman Sea
The dealership provides professional service and consultation in terms of used cars. As a dedicated car dealer, JMSB has designed a solution to offer the best deals for sellers, either individuals or corporate. The solution ensures that their customers could indulge in charges without losing the value of their cars. This would offer them a reasonable profit margin. Two solutions are available for sellers: the Express Solution, of which the dealer is responsible for selling or the Direct Solution, of which the owners would handle sales themselves. The dealership provides special financial options through established groups such as Ambank, Hong Leong Finance and Maybank Finance.
Address: 3470, Jalan SS 23/15, Taman Sea, 47400 Petaling Jaya
Hours:
10am – 6pm Monday – Friday
10am – 5pm Saturday
10:30am – 4pm Sunday
Phone: 03-7880 7008
Sime Darby Auto Selection Ara Damansara
Sime Darby Auto Selection is Malaysia's corporate multi-brand used car dealer. Founded in 2014, Sime Darby Auto Selection has expanded our business and offerings from being a certified BMW used car dealer to a nationwide multi-brand dealer with several locations. THE SIME DARBY ADVANTAGE Sime Darby Auto Selection is a subsidiary of Sime Darby Motors, the automotive arm of Sime Darby Berhad. We deliver sustainable value to our stakeholders through operational excellence, high-performance standards, and good corporate governance.
Address: Level 1 Block 1 Sime Darby Motors City, 6, Jln PJU 1A/7, Ara Damansara, 47301 Petaling Jaya, Selangor
Hours: Open daily 9am-6pm
Phone: 03-4065 2500
myTukar
myTukar is your go-to place to buy and sell pre-owned cars. Part of the Carro Group, myTukar is the fastest growing digital pre-owned car ecosystem in Malaysia that offers a full-stack service for all aspects of car ownership.
Address: Lot 3470 (Lot 05 & Lot 05A, Jalan SS 23/15, Taman Sea, 47300 Petaling Jaya, Selangor
Hours: Open daily 9:30am-6:30pm
Phone: 03-7890 4499
CARSOME
CARSOME is Southeast Asia's largest integrated car e-commerce platform. With presence across Malaysia, Indonesia, Thailand and Singapore. CARSOME provides end-to-end solutions to consumers and used car dealers, from car inspection to ownership transfer to financing, promising a service that is trusted, convenient and efficient.
Address: DG1, SS7/26, Jalan, Pusat Komersial Parklane, 47301 Petaling Jaya, Selangor
Hours: Open daily 9am-6pm
Phone: 1-800-82-3388
DIMENSI (Petaling Jaya 1)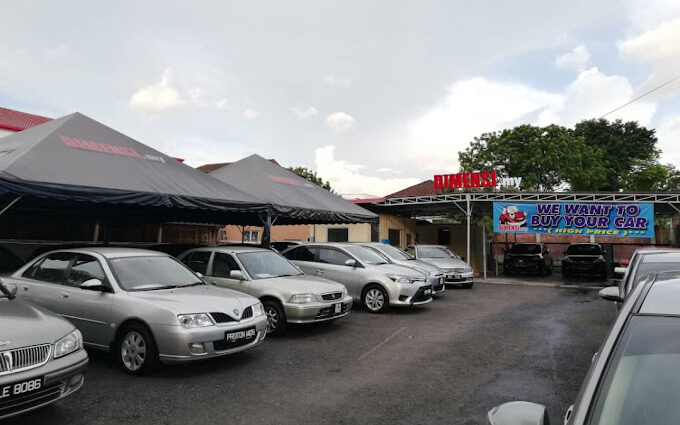 This used car dealership has a good range of used cars for sale, and they offer excellent customer service to ensure that their customers find the right vehicle for their needs. Their friendly and knowledgeable staff can provide buyers with all the information they need to make an informed decision.
Address: 113, Jalan Templer, Seksyen 8 Petaling Jaya, 46050 Petaling Jaya, Selangor
Hours:
9am-7pm Monday – Saturday
10:30am – 5pm Sunday
Phone: 017-495 9989
Keang Chuan Auto Enterprise
They have a wide selection of used cars, from budget-friendly options to luxury models. They also offer financing options for those who need it, making it easier for buyers to get behind the wheel of their dream car.
Address: 33, Jalan Othman 4/40, Pj Old Town, 46050 Petaling Jaya, Selangor
Hours:
9:30am-6pm Monday-Friday
9:30am-3pm Saturday
Sunday closed
Phone: 019-381 4663